I just saw an
amazing
movie on TCM called "Imitation of Life" which stars Lana Turner, Sandra Dee, Susan Kohner and Juanita Moore. Directed by Douglas Sirk, it's a melodrama about a widowed mother, Lora (Lana Turner) struggling to raise her daughter (Sandra Dee). Her attempts to forge a career in New York City as a model/actress, is not going well. Annie's (Juanita Moore) very fair skinned husband abandoned her and it is difficult for her to find work as a Domestic because she refuses to leave her equally fair skinned daughter (Susan Kohner) behind. Lora and Annie strike up a bargain to aid one another. Annie comes to live with Lora. Initially Annie agrees to work only for room and board, caring for Lora's home and child while Lora goes on auditions. Annie gives Lora a degree of status which eventually brings about Lora's first big break. The women become lifelong friends. Annie also becomes a substitute mother to Susie as Lora continues to achieve fame. Lora eventually realizes fame is a mere imitation compared to what really matters in life. Unfortunately, Annie is not having success mothering her own child, Sara Jane, who denies her mother and becomes obsessed with passing herself off as white.
Very lovely performance by Susan Kohner in this movie. She reminded me of Natalie Wood so much! Though not Black, Susan Kohner portrayed Sarah Jane. Kohner's mother was Mexican actress Lupita Tovar and father Czech producer/agent Paul Kohner. Both Susan Kohner and Juanita Moore won an Oscar nomination for Best Supporting Actress in the movie.
I highly recommend this movie if you haven't seen and if you have, see it again!!!
LOVED IT!
Imitation of life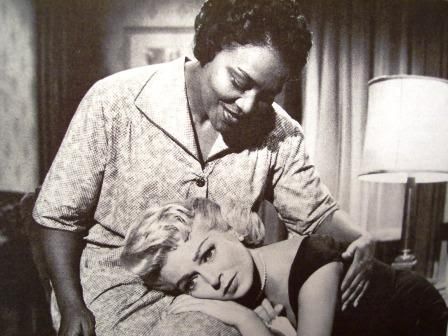 Susan Kohner
Susan's mother, Lupita Tovar